Lake Trace Recreation
Lake Trace and Lake Trace Recreation

For updates from Carolina Trace Country Club on Lake Trace (including hydrilla treatment), click here

The CTA Trace Lake and Dam Committee (TLDC) will consider an annual request from members who may have a need to see the level of water in the lake lowered to make repairs to docks or seawalls. Requests to see the Lake lowered in January-February of the coming year are due by August 31 of the current year.

TLDC Procedure to Request CTCC to Lower Lake Trace

Request for Lake Lowering (completed by PO or POA) - please note this is a PDF form that can be completed on your computer, saved and emailed to [email protected]

Through the TLDC, CTA strives to improve and maintain the fragile ecosystem of Lake Trace and provides guidelines for policies that impact the lake. Residents of Carolina Trace are encouraged to responsibly enjoy the lake via fishing, kayaking, or boating. CTA provides lake access for Carolina Trace for the boats of its residents via the Harbor Creek POA marina boat launch.

Gasoline powered engines are not allowed in Lake Trace, no exceptions. This is an ecological decision on the part of the community.

Boating on Lake Trace

Lake Trace is a no wake lake.

Use of Lake Trace is limited to residents and property owners of the community, and all boats on the lake must be owned by residents or property owners. Guests must be accompanied by a resident or property owner. If your POA does not have a launch area, CTA has an agreement with Harbor Creek POA for use of the launch at their marina. Please be respectful of this privilege.

All boat owners (fishing, kayak, pontoon, etc) in Carolina Trace must fill out a registration form that allows boat owners to stay informed for Lake Trace updates/weather conditions. 
​​​Carolina Trace Boat Registration Form  

Boaters who are in need of help while on the Lake should contact the gatehouse at 919.499.2339. The gatehouse staff keeps an up-to-date list of volunteers who will come and help you.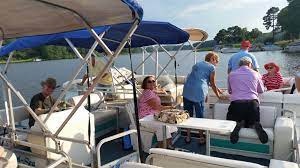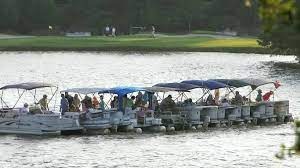 Boating Safety

Training for both boat and human rescue on the lake was hosted in early June 2023 for a large group of CT boat-owning volunteers. Boat owners are encouraged to download a copy of the Lake Trace map from the CTA website (at this link: https://www.carolinatrace.org/file/document/1890183746/Ltm9L3FZLAggbXHD.pdf) to keep on your boat in case you must call for help. Contact the gatehouse if you need assistance and provide your approximate location. The gatehouse will contact Charles Holder, Lake Safety Coordinator, to arrange for help from one of our volunteers.

Fishing

Lake Trace is an ideal setting for the sport fisherman. The lake is considered a 'catch and release' fishing hole. More information about fishing in Lake Trace can be found on this page of the website: https://www.carolinatrace.org/p/TUFF-Fishing